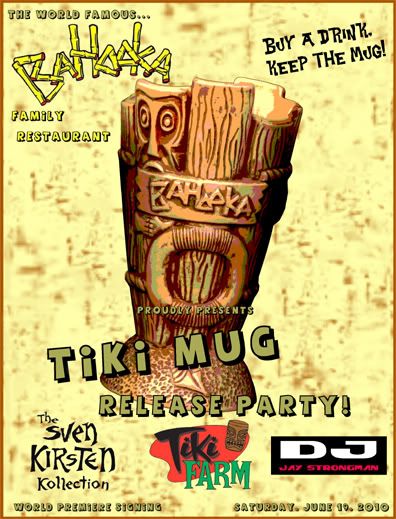 It's time for an event! I've been waiting for this mug for quite a while now.. Since at LEAST March or so.. When I was told by my favorite server 'Chico' that the
Bahooka
would be featuring a new mug since their prior mug from back in 2007 for their
40th anniversary
!
I've been pushing this event for a while now to my friends on Facebook and now more recently to the
Tiki Central Forum
people which I'm glad to be mixing with!
So here's what I've gathered via
Tiki Farm
;
"
The world famous "Bahooka Family Restaurant" will be premiering their brand new Tiki Farm manufactured Tiki mug on Saturday, June 19th!

There will be drink specials and friends galore (and of course the ribs… you've gotta love the Bahooka ribs).

Tiki Farm and the Bahooka just inked the event so we don't have any fancy posters or things like that yet, but we do have something special for you!

Here it is…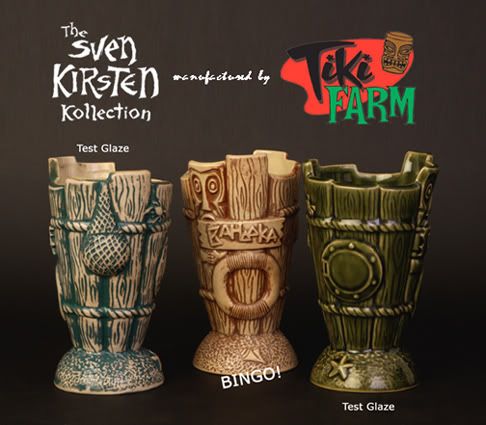 The Bahooka Tiki mug is the first collaboration in a series between my long time friend Sven Kirsten and your pals here at Tiki Farm!

It seems that Sven's getting a lot of play in this email (read on… you'll see:).

With the design you see below, Sven wanted to have a more modest emphasis on the "Tiki" and pay more attention to nautical elements.

You see folks, if you've never been to the Bahooka, they've got 109 fresh water aquariums (and 1 brand new salt water aquarium)!

There will be drink specials going on all night ("buy the drink at "X" price and keep the mug").

We hope to see you there!"
Need I say more??
Bahooka Mug Facebook Event page!
Go to my facebook event page and RSVP so I can try to meet some new DARK & TIKI friends!